Teemu Selanne – "The Finnish Flash"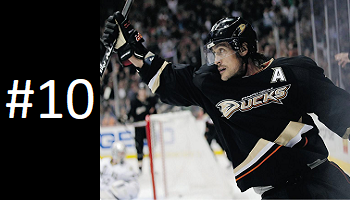 Teemu Selanne, nicknamed "The Finnish Flash" is known for both his blazing speed and astonishing moves. After terrorizing goalies in his native Finland for 2 years with the Helsinki Jokerit, he broke into the National Hockey League (NHL) in the 1992-1993 season with the Winnipeg Jets. He scored during that season, an all-time rookie-record of 76 goals, tied for first place with Alexander Mogilny. Furthermore, he had his best years playing with Paul Kariya with the Anaheim Ducks. He finished his NHL career with 684 goals.
"The Finnish Flash" won one Stanley Cup with the Anaheim Ducks during the 2006-2007 season. He retired after the 2013-2014 season at the age of 43 after 21 NHL seasons with the Winnipeg Jets, Anaheim Ducks, the San Jose Sharks and the Colorado Avalanche. In addition, he ended up his career as a 3-time regular season leading goal scorer. Moreover, he was the first winner of the Maurice "Rocket" Richard during the 1998-1999 regular season.
Teemu Selanne – Career Stats
Number of regular seasons as leading scorer: 3 times
Regular season career goals: 684
Regular season career goals per game: 0.60
Percentage of the goals team: 13.71%
Teemu Selanne – The goal scorer
This is a video highlighting some of Teemu Selanne's goals in the NHL:
Teemu Selanne – The Hockey Legacy
Teemu Selanne was inducted into the Hockey Hall of Fame on June 26th, 2017 along with former Anaheim Ducks linemate Paul Kariya. On January 27, 2017, he was part of the second group of players to be named one of the '100 Greatest Hockey Players"' in history. Furthermore, his jersey number 8 was retired by the Anaheim Ducks in 2015.